SHOWCASE Ospita:UNDERDOSE
La musica dal vivo al Rock'n'Roll Club Milano La musica dal vivo su ROCKNROLLRADIO.IT
---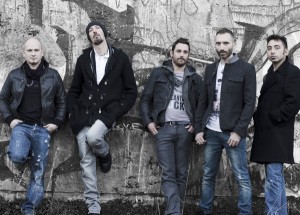 Suoni d'oltreoceano, decisi e potenti che si fondono in un continuo abbraccio con le melodie dettate da una voce emozionante e sostenute dal calore e l'elettricità di pianoforti e sintetizzatori. Questo mix che vede nella lingua italiana il suo naturale sfogo, nasce nel 2009 quando si formano gli UNDERDOSE.
Il loro impatto con pubblico e critiche è da subito importante tanto da vedere gli UNDERDOSE calcare la scena musicale italiana da protagonisti con la vittoria del "Rock Targato Italia" edizione 2011 e con le finali raggiunte in altri contest nazionali come il Tour Music Fest e Virgin Radio Battle Of The Bands
In pochissimo tempo gli UNDERDOSE hanno suonato su numerosi palchi italiani tra questi i più importanti sono il Jail break di Roma, Lido di Venezia per Virgin Radio Contest, Il Legend 54 di Milano,il Land of Live e il palco di "Milano in Musica" come gruppo spalla all'ex leader dei Timoria Omar Pedrini.
La discografia degli UNDERDOSE vede all'attivo un EP autoprodotto dal titolo "A Mara Dolce", edito nel gennaio 2011 contenente 7 brani. Nel 2013 presentano il singolo "Neve Su Marte" che è stato per mesi nei primi posti della Classifica Indie e Alternativa di Amazon e in rotazione in più di 200 radio locali e nazionali e che anticipa l'uscita nei prossimi mesi del primo full-lenght "DIVERSO INVERSO" pubblicato da VALERY RECORDS, una delle più importanti etichette indipendenti italiane (Pino Scotto , AmbraMarie , The Fire , Trick or Treat , Clairvoyants etc .) con la quale è stato siglato un'accordo nella primavera 2014.
La band è composta da: Sergio Guida (voce), Andrea Cribioli (chitarra), Tony Patruno (basso), Paolo Bottini (tastiere), Stefano Colombo (batteria).
Scaletta del concerto: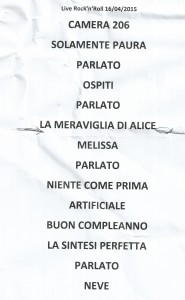 Live @ showcase Registrato al ROCK'N'ROLL CLUB GIOVEDI' 16 Aprile 2015
SHOWCASE Una trasmissione in collaborazione tra Rocknroll Radio e Rock'n'Roll Club Ideata e condotta da Luca Trambusti
Photogallery del concerto
www.underdose.it
Video "La Sintesi Perfetta"
---