SHOWCASE Ospita: Lilith & The Sinnersaints
La musica dal vivo al Rock'n'Roll Club Milano La musica dal vivo su ROCKNROLLRADIO.IT
---
LILITH & THE SINNERSAINTS IN UN LIVE CON INTERVISTA PER PRESENTARE IL LORO ALBUM D'ESORDIO Stereo Blues vol1: punk collection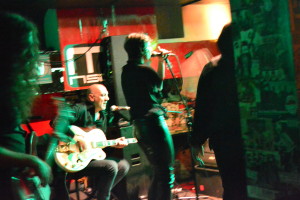 La nascita musicale di LILITH è datata 1981 con l'esordio su un palco con i Not Moving (una delle bands più rappresentative del rock'n'roll italiano degli 80's) con cui vive 8 anni di intensa attività concertistica e discografica.
Nel 1988 la scissione dai Not Moving avvia la carriera solista con un miniLP che segna il passaggio dalle furiose atmosfere elettriche  a suoni più acustici  e blues.
Seguiranno due album tra blues, punk, rock, folk, canzone d'autore e una lunga serie di concerti.
Dopo una lunga pausa nel 2005 torna sui palchi per una breve reunion dei Not Moving che si chiude a Milano a fianco di Stooges e Damned , mentre entra in studio per produrre il nuovo album, uscito agli inizi del 2008, che vede la collaborazione di alcuni nomi di prima importanza della scena indie italiana come Paolo Ferrario, Julie's Haircut,  Santo Niente, Dome La Muerte (ex Not Moving), Maurizio Curadi (Steeplejack) oltre al mitico rocker Tav Falco..
Nel 2012 esce per Alphasouth il nuovo album "A kind of blues" in cui si avvale la collaborazione di numerosi ospiti, tra cui Luca Giovanardi dei Julie's Haircut, Ferruccio Quercetti dei Cut, Paolo Apollo Negri del Link Quartet, Pier Adduce dei Guignol Nicola Faimali della band di Dente).
Il 21 ottobre 2013 Alpha South pubblica il nuovo Ep "Stereo Blues vol.1: punk collection", tributo personale alla tradizione punk con brani di Clash, Television, Bad Brains, Saints che prelude ad un nuovo tour italiano.
"Stereo Blues Vol.1: Punk collection" è il primo episodio di una serie di omaggi che Lilith and the Sinnersaints vogliono tributare alla radici del proprio sound.
Lilith nasce artisticamente con il punk, il blues, i Rolling Stones, il rock n roll primitivo che successivamente si sono mischiati con folk, canzone d'autore e mille altre influenze.
I quattro brani contenuti in questo EP sono un personale tributo al punk di fine anni 70 che fu la prima colonna sonora delle giornate che l'allora 15enne Lilith spendeva tra il gruppo dei tempi, i Not Moving, e la scuola.
Brani come "See no evil" dei Television e (I'm) Stranded" dei Saints giravano sulle cassette che ci si scambiava alla scoperta del nuovo sound.
Poi venne l'hardcore punk e gruppi come Bad Brains (omaggiati con una versione blues del loro classico "Sailin on") mentre i Clash cercavano nuove strade nella musica tradizionale come il blues, il reggae o il gospel (come in "The sound of the sinners" da "Sandinista").
Lilith and the Sinnersaints in "Stereo Blues vol.1: Punk collection" volgono lo sguardo a quei tempi ma lo attualizzano attraverso una sensibilità moderna e il loro unico stile.
LA SCALETTA DELLA SERATA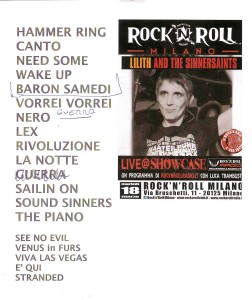 Video:
http://www.youtube.com/watch?v=8YmAe8STOdM
http://www.youtube.com/watch?v=Ujou7CdVp9U
---
Live @ showcase
registrato al ROCK'N'ROLL CLUB
MARTEDI' 18 Marzo
SHOWCASE
Una trasmissione in collaborazione tra
Rocknroll Radio e Rock'n'Roll Club
Ideata e condotta da
Luca Trambusti
---