SHOWCASE Ospita: Grooming
La musica dal vivo al Rock'n'Roll Club Milano La musica dal vivo su ROCKNROLLRADIO.IT
---
LA BAND DAI 1000 VOLTI IN UN LIVE CON INTERVISTA PER SUONARE IL LORO NUOVO ALBUM "THISCONNECT" CON LORO SUL PALCO OSPITI CHIARA CANZIAN,  JACK JASELLI, THE HUGE e MEME GALBUSERA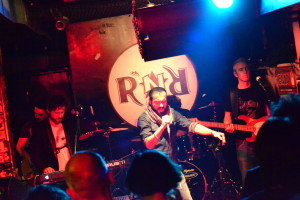 Una piccola scimmia che si dondola nell'aria, appesa per la coda. E' questo il simbolo di The GrOOming, band milanese di musica elettronica dai "1000 volti", come suggerisce il titolo di una loro canzone riferendosi ai molti volti noti presenti nel progetto.
Nata nel 2007 dall'intuizione e dall'estro di Paolo Girelli (ex bassista Zeropositivo, un album con Warner nel 2005 e opening per i REM allo stadio Olimpico di Roma)  – e di Giacomo Vanelli – Giackxx, programming e synth –si ispira al Bristol sound, al trip hop firmato Massive Attack, Tricky e ai Portishead. Un percorso creativo che si snoda tra musica, sperimentazione e originalità e che nel corso del tempo si è costantemente arricchito, grazie anche al supporto di Daniele Falletta alle chitarre e di Emanuele Alosi alla batteria.
Passo dopo passo, incisione dopo incisione, l'esperienza musicale è arricchita da eccellenti collaborazioni. Ecco quindi alternarsi in studio e sul palco le voci di Meme Galbusera (Dirty Keys, Brain Machine), Gianluca "TheHuge" Plomitallo (Snow Spring, Man With 1000 Faces), Jack Jaselli (Totally Integrated), Alessandra Contini (Training Days), Ezio Castellano (Grey Zone, Once, The Playground), Denise Misseri e Ketty Passa (Another?), Paolo Martella (Wishy Washy), Chiara Canzian (The Candle) per esprimere dolcezza, oscurità, sensualità, disperazione, denuncia, decadenza. Linee melodiche che si intrecciano in maniera spontanea, quasi per gioco; un monologo interiore, in un inglese scimmiottato e scimmiesco, che lascia trasparire la personalità di ogni interprete per quello che si presenta come un vero e proprio collettivo artistico, oltre che una band. Un progetto in continua evoluzione, un progetto dai 1000 volti.
LA SCALETTA DELLA SERATA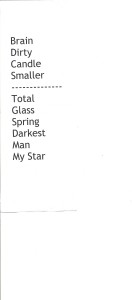 Live @ showcase
registrato al ROCK'N'ROLL CLUB
MARTEDI' 28 GENNAIO
SHOWCASE
Una trasmissione in collaborazione tra
Rocknroll Radio e Rock'n'Roll Club
Ideata e condotta da
Luca Trambusti
---